Located in the Affton area of St. Louis, MO, the Kokondo of Greater St. Louis, run by Senior Kokondo Instructor Mr. Charles Martin, teaches students this primarily traditional Japanese system derived from the oldest known form of the warrior arts – those proven in the past to be both powerful and effective.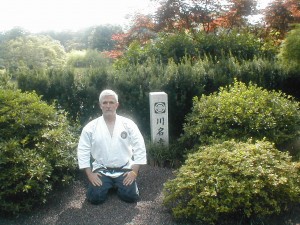 Public Service: Our members are available for seminars for your organization or group. We can customize the sessions to fit your needs – from lectures to hands-on training.
Groups we have worked with include:
Martiz Corporation
Webster University
GMAC Mortgage Women's Group
The Salvation Army
I.T.T. Criminal Justice and Gold's Gym of St. Peters, Missouri
Kokondo translates into:   "The Way of the Past and Present."
Kokondo martial arts is composed of superior jujitsu (Jukido) and powerful karate systems. Kokondo, with its strong Chinese and Okinawan influences, is not sport-oriented. Instead of trying to win trophies, Kokondo's emphasis is on realistic and effective self defense. We stress safety, courtesy and respect to others, self discipline and doing one's best.
Classes include both Karate Kokondo and Jukido Jujitsu. Both are very powerful and complete systems which complement each